Nowadays, an authentic ie, handmade with traditional signs inspired by the local story and way of living, is a rarity. If you want to discover the pride and pleasure of traditionally inspired treasures reintegrated in modern clothing, we are waiting for you Saturday, 21st of September, from 12 p.m., in the garden at Coftale (42  Ștefan Mihăileanu Street) at La Șezătoare. The event is a traditionally inspired workshop where we will enrich our wardrobe with clothes animated by Romanian motifs.The women from the communities where we work will show us some simple traditional seams which we will be able to apply on linen or embroidery.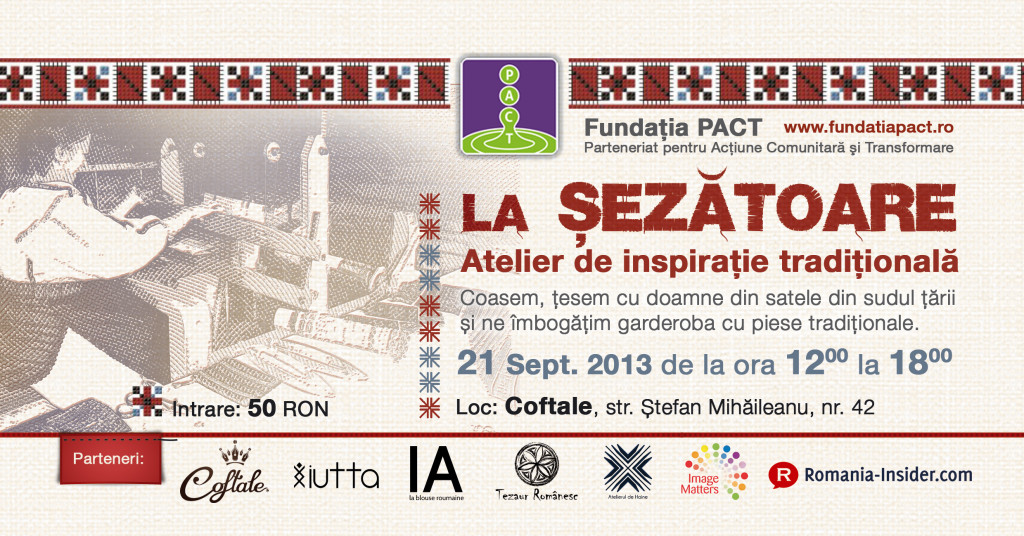 La Șezătoare is a good occasion to know each other and prepare our attire for Rustic Feast, the rustic party that we, at PACT, organize this fall, at Manuc Inn. On the 9th of October, at the heart of Bucharest we bring the south of Romanian village to life with a rustic party in which customs are intertwined with traditions and the possibility to contribute to their preservation and wellbeing. For more details and news about the event, we invite you to access www.rustic.fundatiapact.ro.
Therefore, Saturday, 21st of September, starting 12 pm, we open the gates for La Șezătoare, where our partners and supporters, La Blouse Romaine, Atelierul de Haine, Iutta, Image Matters and Mihaela Ivana will be there to offer you traditionally inspired solutions. Reconditioned Romanian blouses (ie), traditional costumes reinterpreted in an urbane matter and lots of other beautiful surprises may be purchased at the location.
The entrance will be made on the basis of a donation of 50 lei and it represents a good deed for the communities where we work. With the money raised we will support new local initiatives like the 12 projects and initiatives from our communities, which we finance this year through PACT pentru COMUNITATE with 40.000 dollars
You can check the agenda of the event for further details.
For more information and confirmations we are waiting for your email at ioana.traista@fundatiapact.ro. Together with the confirmation we ask you to choose the time slot when you want to take part in the sessions.
You can also join our Facebook event HERE.
Disclaimer: Due to an unexpected situation, Irina Markovits will not be able to attend this event.
We couldn't enjoy these events without the support from behalf our partners: CEO Clubs, Manuc Inn, Iutta, La Blouse Romaine, Atelierul de Haine, Image Matters, Coftale, Cai verzi pe pereți, Mihaela Ivana and media partners: Romania-Insider, The Bucharest Lounge, CSR Media, România Pozitivă.